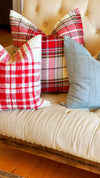 Vintage Washed Green Linen Pillow Cover
Shipping calculated at checkout.
Beautiful fresh vintage wash green pillow cover in a linen cotton blend.  
Each pillow cover has a plaid front, and the back is made with a durable solid natural linen. 
Pillow inserts are sold separately.
Wash delicate cold, line dry for best cleaning results.
Pillow covers made in the USA. 
The 20x20 cover fits a 20x20 pillow insert (note: the pillow cover is sewn slightly smaller to achieve the best look for the pillow insert)
The 26x26 cover fits a 26x26 pillow insert (note: the pillow cover is sewn slightly smaller to achieve the best look for the pillow insert)